740 East Foothill Boulevard
Learn more about this beautiful
senior affordable housing community
Total Units (43)
42 apartment homes for seniors experiencing homelessness.
1 apartment home for an onsite manager.
Onsite Amenities
Onsite supportive services
Onsite case management
Community room
48 long-term bicycle spots
6 short-term bicycle spots
16 vehicle stalls
16-foot landscaping buffer at south
New sidewalk, curb and gutter at Foothill Blvd.
41-foot drive-aisle on west
Learn more about 740 E. Foothill Blvd.
Building the Future of Community
For more than 30 years, National CORE has been building award-winning developments in under-resourced neighborhoods, revitalizing the community, bringing new investment and opportunities and providing the physical platform for community and social change.
As a vertically integrated organization, National CORE engages in all phases of development – planning, development, construction, property management and resident services – to establish "complete communities." A leader in energy efficiency and sustainability, National CORE is committed to delivering cost-contained, high-performance developments. In 2021, National CORE became only the second affordable housing developer in the nation to earn an A+ credit rating from Standard & Poor's Global Ratings.
Addressing the Affordable Housing Crisis
California has reported the nation's largest homeless population for more than a decade – 171,521 as of 2022, according to the U.S. Department of Housing and Urban Development's Office of Policy Development and Research.
In Los Angeles County, 69,144 individuals experienced homelessness in 2022, up 60 percent since 2015, according to the Los Angeles Homeless Services Authority. That's nearly 40 percent of the state's total homeless population.
About 11 percent of the county's homeless population – about 7,400 – lives in Supervisorial District 5, which experienced a nearly 50 percent increase in homelessness since 2015.
In January, Los Angeles County declared a state of emergency for homelessness to streamline and accelerate the creation of housing critical to tackling the crisis.
Seniors are one of California's fastest growing populations experiencing homelessness. From 2017 to 2022, the number of individuals ages 55 and older accessing homeless support services jumped to 62,800 from 30,251, according to the Homeless Data Integration System. In Los Angeles County, the number grew to 18,774 from 9,947.
Because Where You Live Matters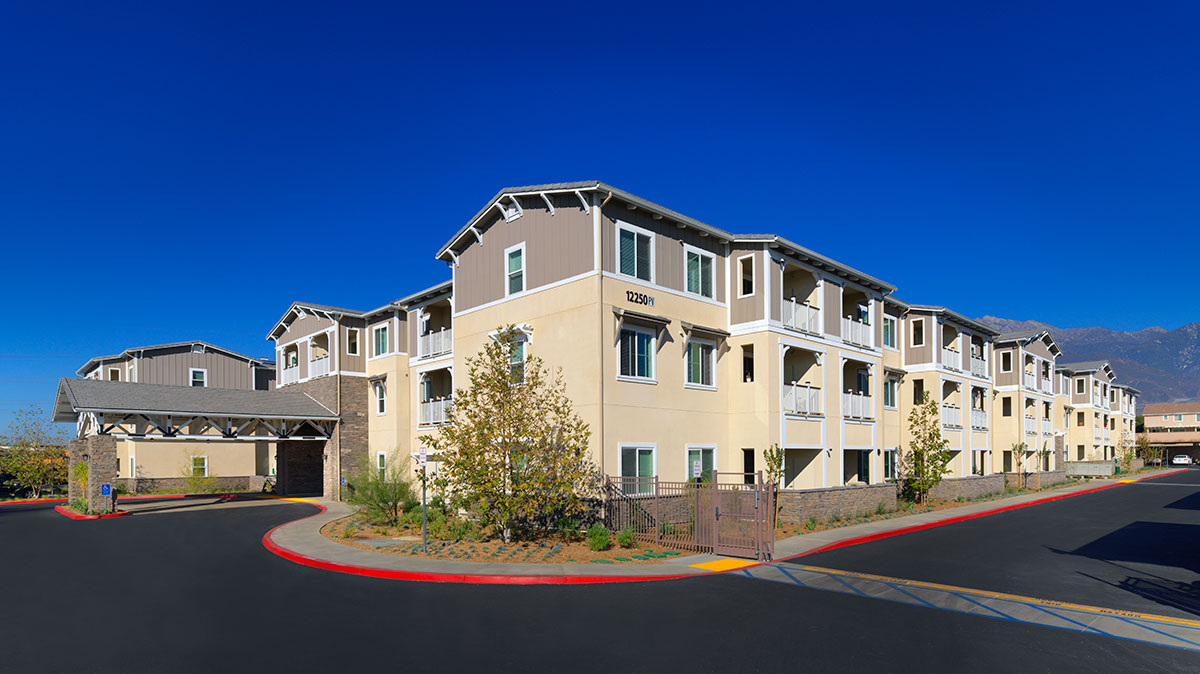 Day Creek Senior Villas
Location: Rancho Cucamonga, CA
Number of Units: 140
Type: Senior
Certification: LEED-H Gold
Year completed: 2020
Awards: 2021 NAHRO Award of Merit – Affordable Housing, 2021 Affordable Housing Finance Readers Choice Award (Green Category)
Heritage Pointe
Location: Rancho Cucamonga, CA
Number of Units: 49
Type: Senior
Year completed: 2003
Awards: 2004 Design Excellence, 2008 Apartment Association of the Greater Inland Empire Community of the Year, 2012 Apartment Association of the Greater Inland Empire APEX Award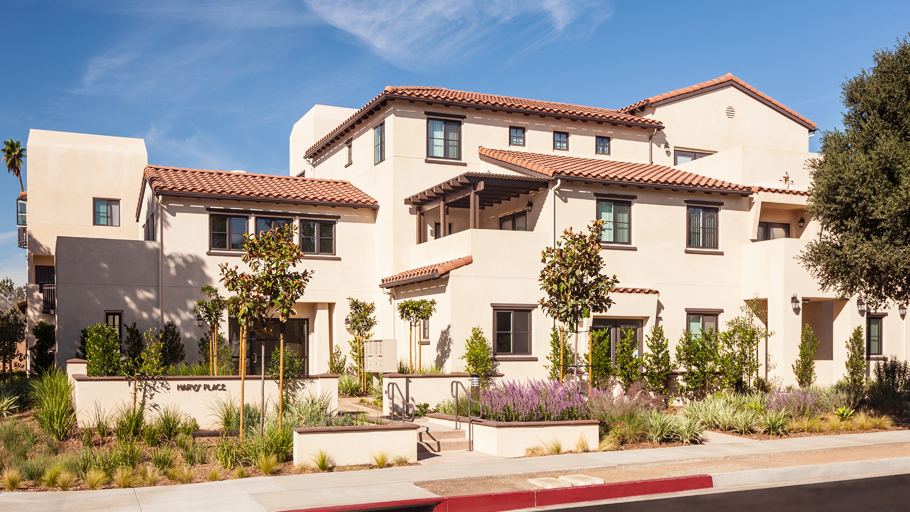 Marv's Place
Location: Pasadena, CA
Number of Units: 20
Type: Permanent Supportive Housing
Certification: LEED-H Platinum
Year completed: 2016
Awards: 2016 Supportive Housing Project of the Year, 2017 Congressional Recognition of Excellence
San Marino

Location: Montclair, CA
Number of Units: 84
Type: Senior
Year completed: 2009
Awards: 2010 Senior Housing Project of the Year Honorable Mention, Apartment Association of the Greater Inland Empire 2013 Senior Community of the Year, 2010 Award of Merit in Housing and Community, 2013 Best Creative Financing of an Affordable Housing Community
San Ysidro Senior Village
Location: San Bernardino, CA
Number of Units: 51
Type: Permanent Supportive Housing/Senior
Certification: LEED-H Gold
Year completed: 2020
Awards: 2021 Supportive Housing Award & Environmental Award, SDHF Ruby Awards; 2020 Best in Green Affordable Multifamily Community (Finalist), NAHB Multifamily Pillars of the Industry Awards
Vista Grande Court
Location: Glendale, CA
Number of Units: 66
Type: Senior
Certification: LEED-H Gold
Year completed: 2020
Awards: 2020 Best 55+ Affordable Rental Community Gold Award
Transforming Lives and Communities
Sustainability
National CORE is a nationally recognized innovator in building cost-contained, high-performance, environmentally friendly, state-of-the-art communities and is committed to meeting the highest levels of sustainability and green design.
Construction
As the general contractor, National CORE applies strong systems and processes, allowing it to forecast construction costs, ensure the highest quality of construction and maintain control over the timing of developments.
Property Management
National CORE will provide onsite best-in-class property management and maintenance focused on preserving the integrity of the community and creating a place that residents are proud to call home.
Homeless Housing
100% of the apartment homes will be set aside as permanent supportive housing (PSH) to address the rise in seniors experiencing or at risk of homelessness in east Los Angeles County.
Resident Services
Hope through Housing delivers a best practices approach to empowering vulnerable populations, focusing on the individual, honoring personal choice and applying proven models for recovery, resiliency and overall well-being for residents living in Permanent Supportive Housing (PSH).
The People Concern works to address the effects of homelessness, providing programs that empower the most vulnerable among us to improve their quality of life – housed, healthy and safe – and become active participants in the community.
Community Engagement
National CORE has a long history of collaborating with residents and local and regional partners to cultivate trust, deepen community impact and reimagine community spaces.
A Life Transformed, Stories of National CORE Residents
Richard, a resident of the Fountains at Sierra in Fontana, credits the National CORE affordable housing community with turning his life around.
A Navy veteran, Richard lived 15 years on the streets, struggling with addiction.
At the Fountains, he found a support network of residents and property management representatives who made him feel at home and connected – and who have helped him stay clean and sober for more than a decade.
"My life here has been good. I have a roof, I can take showers, I love it here," he said. "I don't resent my homelessness. When you're out there and you need help, you can find it."
Annali was forced to make a home for her two toddler girls in a tent under a bridge near the Rose Bowl. She draped a single blanket over her daughters to keep them warm while she kept a vigilant eye for dangers in the night. At times, she went days without eating to ensure her children had enough.
In all, she spent six years on the streets before finding Marv's Place, a National CORE affordable housing community in Pasadena. She arrived with only a small bag of clothes, ridden with anxiety.
At first, that anxiety – brought on by the trauma of her homelessness – prompted Morales to keep her children indoors and to limit her own activities. But, with the help of services offered by Union Station, a social services provider working with National CORE, she began to accept her good fortune and restart her life.
"Living at Marv's Place has given me hope and helps me see that I am capable of so much more," she said.
"Each National CORE developed I've seen not only brought value to the residents, but it has increased the value of the surrounding neighborhoods."
~ Acquanetta Warren, Mayor of the City of Fontana
"The only thing that ends homelessness is permanent housing. For folks who have been homeless — permanent housing with supportive services is the best practice. It's the model that really works where people have about a ninety-five percent success rate of staying in that housing."
~ Bill Huang, Director, Housing Department, City of Pasadena

"Through collaboration and commitment with the City of San Marcos and other agencies, National CORE has completely transformed neighborhoods from the brink of ruin to flourishing communities."
~ Beth Nielson, Housing Programs Specialist, City of San Marcos
Information Workshops
Review recordings of our informational workshops.
View a recording of the June 15 Information Workshop below.
View a recording of the May 25 Information Workshop below.
View a recording of the May 9 Information Workshop below.
The County of Los Angeles and National Community Renaissance of California (National CORE),a nonprofit 501(c)(3) affordable home builder, would like to invite the public to participate in an informational workshop to learn about an affordable senior living community proposed for 740 E. Foothill Avenue. This session is the first of a three-part virtual series to provide information on the development and answer questions from the public. The information sessions will provide an overview of the housing goals for this location, the proposed design and review onsite services and the management plan. Dates for the remaining two sessions will be announced shortly.
For questions regarding this event or if you require interpretation services in languages other than English, please contact 740foothill@nationalcore.org.
Frequently Asked Questions
How many apartment homes are available?
After revisions prompted by community feedback, the development scope was reduced from 54 units to 43, with one set aside for an onsite property manager.
Will any of the apartment homes be set aside for homeless seniors?
Yes. Aside from the unit occupied by the onsite property manager, 100% of the apartment homes will be set aside for seniors experiencing or at risk of homelessness.
What is permanent supportive housing?
Permanent supportive housing is permanent housing with indefinite leasing or rental assistance paired with supportive services to assist homeless persons with a disability or families with an adult or child member with a disability to achieve housing stability.
How does National CORE support its residents?
National CORE works with support service providers, including our nonprofit partner, the Hope through Housing Foundation, to deliver onsite support to our residents. In our PSH program, we also collaborate with community-based providers with special expertise to provide an array of highly structured support services. National CORE will partner with The People Concern at the 740 Foothill Community.
Hope through Housing Foundation
How does Hope through Housing Fund its services?
For each of National CORE's apartment communities, the operating budget includes a per unit allocation of funds to the Hope through Housing Foundation to provide supportive services to residents living in the development. For each property, a resident services manager works onsite to tailor services to the specific needs of the residents.
What are National CORE's community standards?
National CORE has a zero-tolerance rule for drug use, criminal activity and violence at its communities.
Has L.A. County approved the 740 Foothill Community?
No. The development has only received an initial recommendation of funding. Here is a timeline of what has occurred thus far:
November 1, 2022: The Los Angeles County Development Authority (LACDA) issues a Notice of Funding Availability (NOFA) Round 28 for the development of affordable housing communities.
December 27, 2022: LACDA receives 31 applications for $124 million in loans, including the 740 Foothill Community by National Community Renaissance (National CORE).
March 21, 2023: LACDA finalizes funding recommendations through NOFA 28 for seven developments, including $7 million for National CORE.
April 7, 2023: LACDA informs Fifth District Supervisor Kathryn Barger, in whose district the property lies, of the funding recommendation for the 740 Foothill development.
April 18, 2023: Los Angeles County Board of Supervisors planned review of the funding recommendation. Consideration of the funding is delayed pending community engagement and feedback.
What criteria did National CORE use to select 740 E. Foothill Blvd as a potential location for the development of affordable housing?
As many cities in Southern California are virtually built out, the identification of potential development sites typically starts with identification of underutilized and vacant properties zoned for the development of multifamily housing. The 740 E. Foothill Blvd. property is designated Commercial General (C-G) in the Los Angeles County General Plan and zoned General Commercial (C-3), which allows for multifamily housing.
The next level of consideration is how the site will score on funding applications, which award points for geographic factors, including proximity to amenities (i.e., grocery stores, pharmacies, medical services, parks and libraries and transit stops and stations). The 740 E. Foothill Blvd. site has access to public transit via a bus stop at the intersection of North San Dimas Canyon Road & Foothill Boulevard (Foothill Transit Line 188) and is within one mile of Sprouts grocery store, a public park (San Dimas Canyon Park), a CVS pharmacy and nearby medical clinic(s).
In 2017, the California Department of Housing and Community Development (HCD) and the California Tax Credit Allocation Committee (CTCAC) adopted a policy to avoid the segregation and concentration of poverty and to encourage access to opportunities in siting new affordable housing developments. A new mapping system was released to aid and incentivize new affordable communities within Highest or High Resource areas. The 740 E. Foothill Blvd. property is categorized as High Resource per the 2023 CTCAC/HCD Opportunity Area Map.
Does National CORE own the property?
National CORE has entered into an agreement with the property owner to purchase the land.
Did National CORE conduct an environmental analysis of the property?
National CORE has an in-house urban planning and entitlement team that is working closely with L.A. County to ensure that the apartment home community will be compliant with all requirements of the L.A. County Municipal Code, California Building Code and California Environmental Quality Act (CEQA). The proposed development at 740 E. Foothill Blvd. qualifies for multiple types of categorical exemptions from CEQA, including the Small Infill Exemption (CA CEQA Guidelines Section 15332), Affordable Housing Exemption (CA Code of Regulations Section 15194(b)-(d)) and Supportive Housing Exemption (Assembly Bill 2162).
What is National CORE's history with affordable housing in Los Angeles County?
National CORE has been developing affordable housing communities throughout Southern California for more than 30 years, including roughly 16 apartment home communities in Los Angeles County. Information on our current properties in Los Angeles County can be found on our website: https://nationalcore.org/portfolio/california-communities/los-angeles-county-ca/. As a nonprofit, National CORE has included a specific focus on permanent supportive housing for more than three years, although providing homes to families and individuals experiencing homelessness has always been a part of our mission.
Does National CORE or its founders provide campaign support to L.A. County Supervisors?
No. National CORE, as a 501(c)(3) is prohibited from providing campaign support to Los Angeles County Supervisors or any political officials. Furthermore, it is against our bylaws and organizational policies.
How does National CORE fund its developments and service providers?
National CORE has more than three decades of experience preparing financial projections and structuring each property's unique capital stack, utilizing a variety of funding sources to strategically position a proposed development until it is fully funded. Our long-term and multiple-deal relationships with various public and private financial partners give us access to external capital resources that can be committed to the proposed project. We are familiar with a range of funding sources, including, but not limited to: HOME funds, Community Development Block Grants (CDBG), Multifamily Housing Program (MHP), Veterans Housing and Homelessness Prevention Program (VHHP), FHLB Affordable Housing Program (AHP), Affordable Housing Sustainable Communities (AHSC), CalHFA Mental Health Services Act, No Place Like Home (NPLH), HUD Section 202, 811, 221(d)4, 223(f), as well as Section 8 Project Based Vouchers/RAD Vouchers/VASH Vouchers.
What similar developments has National CORE completed?
National CORE operates more than 500 units of permanent supportive housing at 20 sites in Southern California with 600 more units in the pipeline. Within Los Angeles County, National CORE has four properties with permanent supportive housing units in operation, including: Encanto Court (City of L.A.), Marv's Place (Pasadena), Veterans Park (Pomona) and Fairview Heights (Inglewood). National CORE also operates senior affordable housing communities that often integrate a percentage of units for special needs or formerly homeless households, including Day Creek Villas (Rancho Cucamonga), San Ysidro Senior Village (San Diego) and Vista Grande Court (Glendale).
How much parking will be provided to serve the development?
Los Angeles County requires no parking spaces for this type of development given the extreme need to provide housing for our vulnerable populations. Despite that, National CORE's initial plans included 19 spaces – 0.35 spaces per unit. After reducing the development's scope to 43 units and lowering the building's height, the number of spaces was reduced to 16.
Many residents of permanent supportive housing developments cannot afford to own a vehicle when they move in. At the point where they can afford one, they often no longer qualify to live in the development and move onto other forms of affordable housing.  Parking is also strictly monitored by onsite staff. National CORE wants to be a good neighbor and maintain the quality of our property and the surrounding community.
Is there a community room?
All National CORE properties include an onsite community room used by our Hope through Housing Foundation Staff to provide services, hold workshops or plan community activities for our residents. The community room in the 740 E. Foothill Blvd. development would NOT be open to the public and would only offer services to our building residents.
How will fire safety be handled?
National CORE is already engaged with the Los Angeles County Fire Prevention Division and will adhere to all fire safety requirements of Title 32 of the L.A. County Municipal Code (Fire Code). The Fire Prevention Division is responsible for conducting new construction field inspections, annual business inspections and minor plan checks for building, processes and fire extinguishing systems.
Will the development include sidewalks for the public?
National CORE will be constructing off-site improvements adjacent to the 740 E. Foothill Blvd development as required by the County of Los Angeles. Off-site improvements could include the installation of sidewalks, curbs and gutters, street trees and lighting on frontages abutting the project site. These improvements are not yet defined but will serve the broader community as well as our residents.
How can community members share their perspectives on the 740 Foothill Community?
Community members are invited to share their thoughts at a series of community meetings hosted by National CORE. Join our 740 Foothill Community Forum for updates.
What is the goal of the National CORE community meetings?
National CORE will listen to community concerns and apply that feedback to the 740 Foothill Community design. National CORE has a history of strong community collaboration, adapting developments to match local architecture so they blend seamlessly into communities while adding value due to their high-quality design, amenities and services.
Why did National CORE wait to consult with the community?
Based on the urgent need for affordable housing in California, funding sources at all levels (local, state, federal) are significantly oversubscribed. The 740 E. Foothill Blvd. development submitted an application to the LACDA Notice for Funding Availability (NOFA) round in fall 2022, which made available $35.2 million in capital financing. LACDA received 31 applications requesting a combined total of over $124 million. LACDA evaluates, scores and ranks proposals according to established criteria aligned with the goals, policies and needs of L.A. County.
Funding recommendations were released at the end of March 2023, with only seven applicants succeeding in competing for the available funds (including the 740 E. Foothill Blvd. development). The competitive nature of the process makes it difficult to initiate significant consultation and engagement with the community in light of an overarching uncertainty of a successful financing award and ability for a project to proceed.
While community outreach is not required for this kind of a development, it is National CORE's policy and practice to engage with residents of each community where we proposes a new development. With the 740 E. Foothill Blvd. development, which is located on county land, this was further complicated by the interest of neighboring residents of San Dimas and La Verne. After community members raised concerns, National CORE launched a program of virtual and in-person community meetings, one-on-one meetings, met with government agencies and offered tours of its properties.
Will National CORE meet in person with local agencies and residents?
Yes, in-person meetings with local agencies and residents are part of our ongoing outreach. National CORE has engaged in two gatherings of community members as well as one-on-one meetings with community members.
Is National CORE engaging with local agencies that are opposing the development?
Yes. National CORE has been discussing its plans with La Verne and San Dimas city leaders since mid-April.
What police and fire service providers will serve this community? Will the project increase the number of service calls to these entities?
Los Angeles County Fire and Sheriff's departments serve the 740 E. Foothill Blvd. community, just as they have served former uses at this location and similar to how these agencies provide these services to the City of San Dimas.
Each apartment community operated by National CORE has onsite staff who watch for the safety of the neighborhood as well as the residents of our own housing. Our staff is trained to work with local law enforcement to report unsafe activity and to ensure our residents and others in the community are acting responsibly. Many residents volunteer and participate in activities, such as National Night Out, to keep their neighborhoods safe.
Could parking, including RV parking, on neighborhood streets become an issue?
Parking laws and enforcement will not be altered by National CORE's 740 E. Foothill community. Legal parking will continue to be allowed; illegal parking will continue to be restricted with enforcement from local authorities.
Why do we need Permanent Supportive Housing? How is it effective?
People who have been homeless or who are otherwise unstably housed have experiences that generate a lot of stress and often have untreated medical needs. Research shows that this form of housing is the most effective way to end homelessness by providing safe, clean and stable homes with resources such as mental and physical health services, addiction treatment, job training and case management. Every day while living in these homes, residents are supported to rebuild their lives.
Who is eligible to live in Permanent Supportive Housing and how are they selected?
Individuals who are coming from homelessness with a disabling condition are typically identified through outreach teams and put on a list to prioritize those with the most immediate needs through the L.A. County Coordinated Entry System (CES). Priority is based on need; there are no set ratios for gender or any other factor for the residents who are selected to live in the development.
How do you define homelessness?
The definition for homelessness is set by funding sources for Permanent Supportive Housing homes. In general, funding sources abide by HUD and the McKinney-Vento Homeless Assistance Act of 1987 (defined here). In general, the act defines "homeless," "homeless individual" or "homeless person" as an individual or family who lacks a fixed, regular and adequate nighttime residence. For the full definition, please see the link above.
What is the Coordinated Entry System (CES)
Designed by the U.S. Department of Housing and Urban Development (HUD) to coordinate services and housing for the homeless, CES requires counties to adopt a standard assessment, prioritization and referral process with a focus to ensure fair and equal access to the services available in any given county.
Does the CES conduct background checks?
To determine eligibility for residency, the CES runs criminal background checks on all household members ages 18 and over. Registered sex offenders are not allowed to live at National CORE properties per HUD rule 2012-28. Additionally, no illegal substances (based on federal definitions) are permitted on the properties. Usage is grounds for criminal prosecution and eviction.
Do applicants need to go through a drug and alcohol treatment program before selection?
Applicants are not required to go through treatment programs to be eligible for residency. If residents face challenges with substance abuse, our onsite service providers will assist them in receiving treatment.
Are there citizenship requirements?
In most federal rental assistance programs, most noncitizens with permanent status are eligible for assistance, whereas temporary and unauthorized immigrants are ineligible. The 740 E. Foothill Blvd. development is seeking HUD-funded project-based vouchers, which are a federal rental assistance program. Because of this, there would be citizenship requirements.
Will the development only serve seniors? What if not enough apply?
To use county, state or federal funds to construct the development, a legally binding, regulatory agreement will be executed that restricts the development to serve seniors (aged 55+) at specific income levels for a minimum of 55 years. Affordable housing is also subject to annual monitoring and compliance checks to ensure that residents continuously meet all eligibility requirements.
The need for housing for seniors experiencing homelessness in Los Angeles County is dire. National CORE expects to receive far more applications than available apartments – as has been typical for all our affordable housing communities. Regardless of the number of applications received, the community will be age- and income-restricted by legally-binding, regulatory agreements between National CORE, L.A. County and other funding agencies.
Do residents pay rent?
Yes, a typical resident pays 30 percent of their income in rent. Currently, disability income is approximately $900 a month. This means residents pay about $300 a month for rent.
How many people are allowed to live in each apartment?
The occupancy standards vary by unit size and funding requirements. Generally, two persons per bedroom plus one is the allowable standard. However, in senior rental communities, it is generally the case that a one-bedroom unit houses a single resident. Additionally, only residents, their spouses and any dependent children are allowed to live in the unit. This is closely monitored by National CORE staff who live onsite. To maintain the property and ensure our housing communities are safe for our residents, we want to ensure that only approved residents are living within our units.
How will you screen guests?
Similar to a market-rate apartment community or single-family neighborhood, there is no screening process for guests who visit residents living in our communities.
Will pet owners have access to grass and play areas?
National CORE typically includes, at a minimum, a pet relief area in all new developments. Each community is also designed to meet minimum public and private open space requirements per L.A. County codes.
How frequently do property managers inspect the apartments?
At a minimum, unit inspections are provided on an annual basis to ensure compliance with regulatory requirements for the property.
What does 24-hour property management entail?
At each of National CORE's communities, a property manager lives onsite with their family. This creates an investment in the community that goes beyond their daily responsibilities.
How do you support residents that may be struggling?
All onsite staff and providers are trained in key approaches to managing situations such as this. Providers and Property management also can access Psychiatric Mobile Response Teams (PMRT), which are trained in mental health interventions.
How will National CORE ensure the property is properly maintained?
Each affordable housing community National CORE develops is required to sustain long-term financial feasibility. This is a strict underwriting requirement from the public agencies, investors, and lenders with whom we partner to make these communities a reality. This includes appropriate budgets for operational expenses to ensure long-term maintenance, to complete any capital improvements required and for the provision of supportive services. These budgets and funding plans are reviewed and approved by local agencies, lenders, investors etc.
Will there be any opportunities for volunteers at the community?
Yes, National CORE has a volunteer coordinator who would coordinate individuals and groups coming onsite to provide events and positive experiences for the residents.
Building the Future of Community